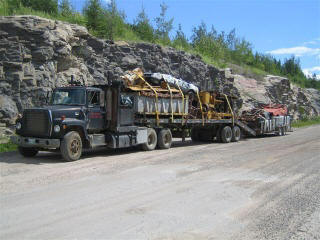 One of the King's Rigs
From his site:
KING
OF
OBSOLETE
KING OF OBSOLETE WEBSITE WHICH FEATURES MY LIFE STYLE USING 1940'S STYLE EQUIPMENT WHICH I TRY AND MAKE A LIVING ON THE WINTER CAT TRAINS AND SCRAP METAL RECYCLING. I LIVE AT THE END OF THE ROAD OR SO CALLED ROAD IN THE GREAT WHITE NORTH ON THE OUTSIDE OF THE TOWN OF LYNN LAKE MANITOBA. WE HAVE CALLED THE PLACE THE "KINGDOM" BECAUSE EVERYTHING IS VERY DIFFERENT FROM MOST SUBURBAN HOMES. THE WEBSITE WAS STARTED IN JUNE OF 2004 AFTER ONLY OWNING A COMPUTER FOR LESS THEN A YEAR. I HAVE LEARNED A LOT WITH A WEBSITE AND MADE LOTS OF GREAT FRIENDS AROUND THE WORLD. I HOPE YOU ENJOY AND PLEASE COME BACK OFTEN FOR THE UPDATES ON OUR EXCELLENT ADVENTURES IN THE GREAT WHITE NORTH. (how many people flying in a plane for breakfast at a lodge???? click on)
KoO
Published Author
(NOTE THAT I HAVE USED BIG PRINT LIKE IN THE CAT TRAIN NEWSLETTERS SO THE OLDER GENERATION CAN READ THIS WITH EASE. I'M THINKING A HEAD FOR WHEN I NEED GLASSES. ALSO I TRIED TO USE COLOURS THAT ARE EASY ON THE EYES TOO BUT IT IS HARD TO PICK COLOURS WHEN ONE IS COLOUR BLIND.)
Video of the Lynn Lake Manitoba scrap yard and trucking genius.
Check out his site
for more information and find out how to order one of his books.